WordPress theme and plugin development has really taken off in the past couple of years. You can build an entire career off of affordable – or even free – tools that enhance other people's websites. Being a service that eagerly encourages such third party and independent development, WP is the perfect platform to focus your efforts on.
Once upon a time this was more of a hobby, but the best devs are getting serious about it. So much so that local networking groups are growing all over the world. Especially in the US, in those cities where technology is big business.
If you are a WordPress developer, whatever genre that might be in, now is the time to really get your head in the game. These meetups offer you an opportunity to connect with others in the field, share trade secrets, strengthen your position within the niche, and just get together with like minded individuals to discuss a topic you are passionate about.
This isn't a WP group, but it is a wider tech and business group. It is also a very big one that has massive meetings once a month in the Washington DC area. With around 800 attendees each go, it is a great opportunity to meet with developers, business owners, entrepreneurs, marketers and more.
Primary location: Washington DC; use this site for travel info.
In NYC, this WP specific group has more than 3,000 current members. However, they tend to hold smaller meetings that make it easier to network with others, each one drawing about seventy attendees. Every third Tuesday of the month they hold their get together centered around a lecture.
Primary location: New York City; NYCgo is your best bet for travel tips.
Talk all things blogging with other bloggers living in the London and surrounding areas. They do mini conferences every couple of months, but you can connect with locals for one on one, or form smaller meetups, if you choose.
Primary location: London; I prefer this site for international travel info.
All WP fans are welcome to this group, where plugin and theme developers, marketing experts, bloggers and more get together once a month either in person or online (they provide webinars). Events are usually held on the last Monday of every month, in the evening, unless otherwise stated in the event details.
Primary location: Boston; This site provides lots of Boston travel guides.
A rather trendy group, this one believes in being on the cutting edge of WP technology. They welcome beginners, though there are a fair number of well established and knowledgeable people already in the meetups. They have get-togethers sporadically, sometimes once a month, and sometimes every couple of months.
Primary location: San Francisco; Bookmark this site for travel help.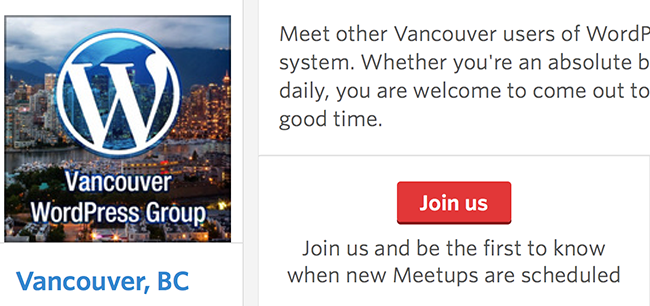 Once a month, Vancouver residents gather for these meetings that include presentations from members, lectures, Q&A panels and plenty of networking among WP fanatics in the area. They regularly have special themes, such as Women Talking WordPress, and Icon Fonts.
Primary location: Vancouver
This is a smaller – but often more active – group in Greater Victoria. While they might skip a month of meetups when everyone is more likely to be busy (such as December), they also often have multiple gatherings in a month. Many of these meetings are bootcamp or workshop style events, meant to give you hands on training from experts on different elements of WordPress use and development.
Primary location: University of Victoria
These guys don't get together that often, though they do occasionally. Mostly, this is a good group for people in Brisbane who are more interested in finding others who use or develop in WP for one-on-one meetups, or small group get-togethers that you plan yourself. A great networking tool, it is actually more useful than it looks.
Primary location: Brisbane and bookmark this site for travel info.
Unlike the Brisbane group, the Sydney group meets up all the time. Certain series repeat the last Monday of every month, and through the month there are a few other group meetings to attend. Turnout varies between a small group of a dozen or so, and up to several dozen.
Primary location: Sydney
This group appeals to all WP users, regardless of chosen niche. Though they do a meetup every month centered around a different demographic, such as beginner tricks one event, and introductions to bbPress another. They are unique in that they also provide a focus for bloggers, freelance writers and journalists, as well.
Primary location:
Do you have a meetup that should be on this list? Let us know in the comments!