There is a reason that designers tend to be obsessed with typography, whether they are involved in graphic or interior designing industries. The combination of words and a visual medium can be a powerful one. For that reason, many people will seek out inspiration using typography for their own designs, including interior.
Having such a wonderful fountain for creative inspiration is good for anyone. Here are some examples of typography brought to life in different rooms.
1. Coffee Shop Sign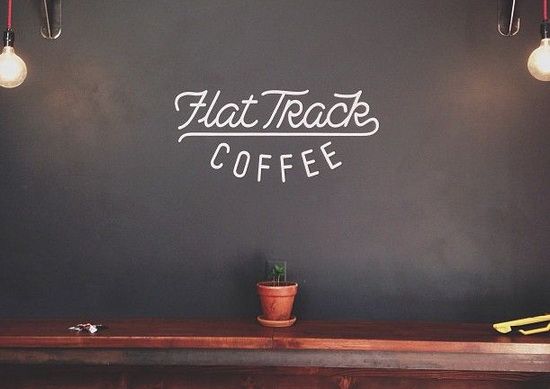 Via Pinterest
This is such a cool idea, and so simple. Rather than a traditional sign, they have used basic typography for a custom, clean looking, but dynamic business sign. This might not technically count as an 'interior', but I thought it belonged on the list. If only to show how clever even the smallest touches can be when typeface was the initial inspiration.
Chalk Backgrounds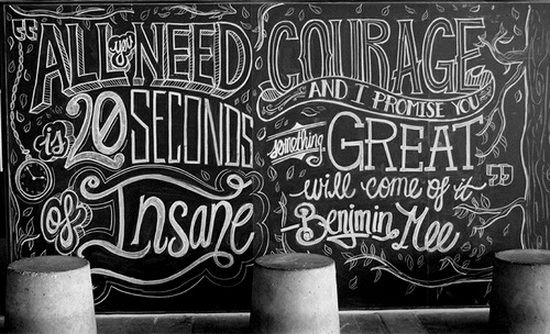 I have seen chalk paint used on walls for children, and occasionally in spaces like living rooms in order to make household lists. But this was a new idea using an old concept that was really cool. You can use chalk boards or paint for more than just practical reasons… they can also be decorative. The different styles of font really make these special, and there is something early-America vintage about the overall look. Like something you would see advertising a traveling carnival. Since you can erase and change it, this makes a great and adaptive form of design.
Typewriter and Type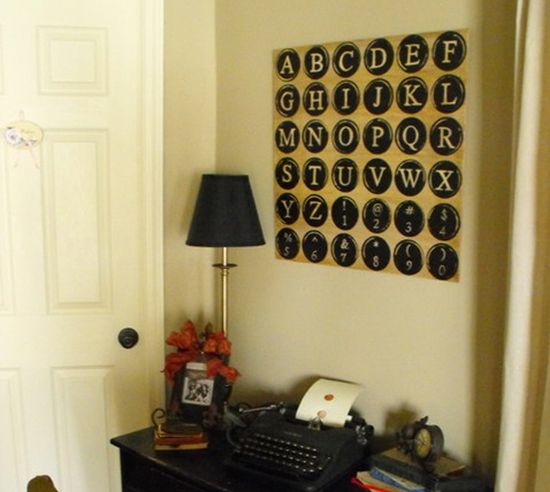 Via Houzz
These two (the typewriter on the table and the type on the wall) create an awesome combination!
COATRACK
Via contraforma.com
Who says you have to be subtle? This is a ridiculous cute, if somewhat cheeky, coatrack that says exactly what it is while being just as functional as any other. I can only imagine that passing by this every day would cause a certain amount of wry amusement, no matter how long you owned it. Though the price is pretty steep, it is a cool idea that anyone with a bit of wood or metal working experience could probably expand on.
Love Pillows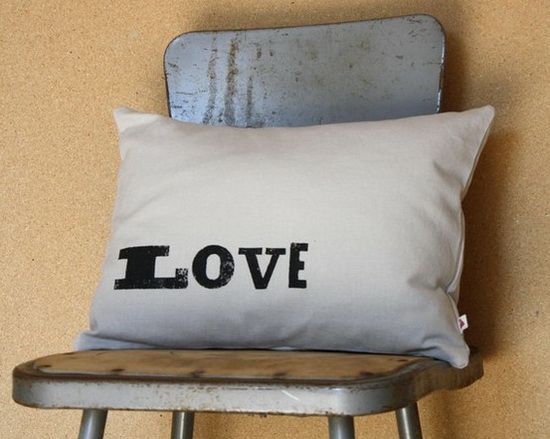 Via ideastosteal.com
All you need is love, right? Having some throw pillows around can also be helpful. Combine the two and you have a great and simple way of adding a bit of panache to a room. This is a great compilation of various styles of love pillows with different fonts.
Eye Charts Cushion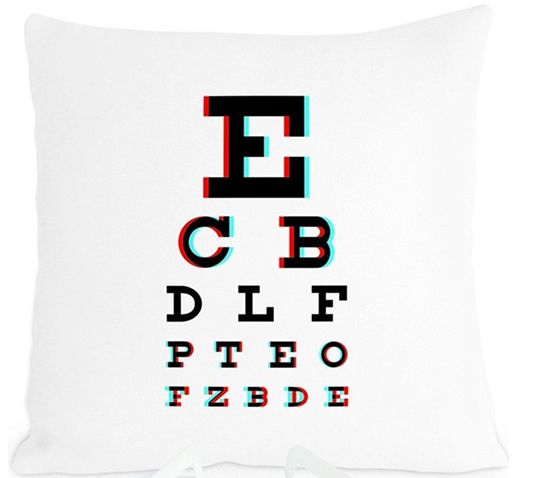 Via Houzz
Here's another awesome typography cushion. Not only it is stylish, it also a 3D! The 3-D effect is achieved through anaglyph printing
Scrabble Tiles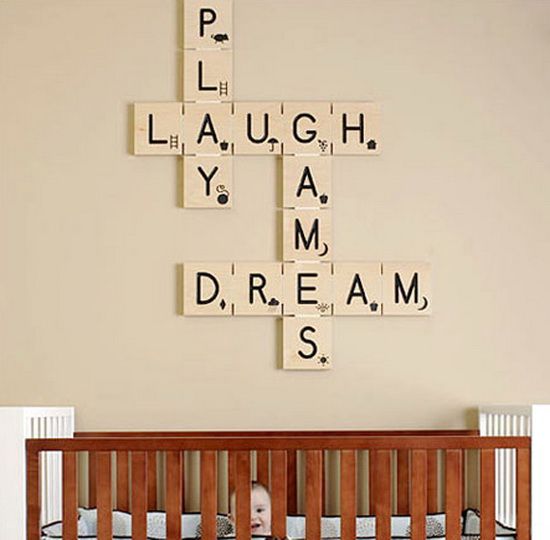 Found at Etsy.com
A lot of people have been doing this lately, so I think it could officially be titled a trend. But what makes this so great is how simple it would be to put together. A couple of equal sized slats of wood, some stencils and paint, and you will be ready to mount them anywhere. This would be such a cute idea for a child or teen's room, as well.
Typography Poster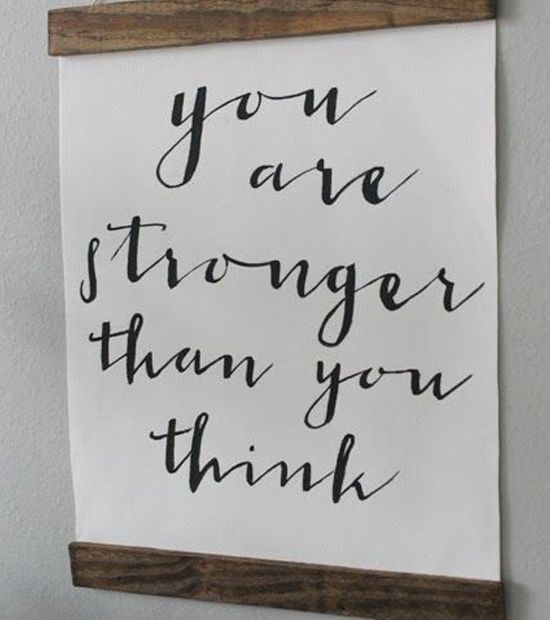 Back to the wall art topic, here's another awesome idea for you: A typography-based post that motivates. It looks like it's hand-written and thus creates such a strong personal message.
Wall Monograms
Found at ElegantRooms.com
Super classy way to decorate a small space, right here. These utilize traditional looking monograms and place them right onto the wall with sweeping letters. You could do this with any typeface, but there is no denying how good this fancier style looks.
Type Chair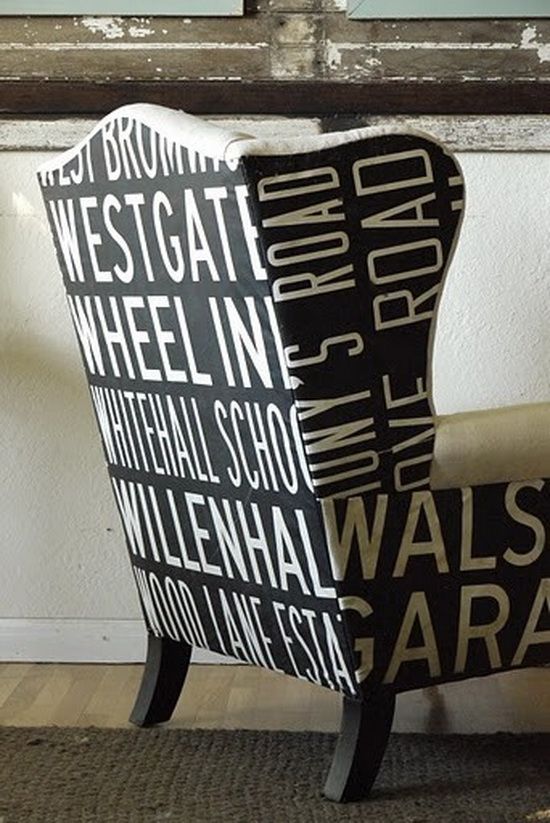 Via Pinterest
You can put the typeface right onto the furniture if you chose. This is awesome for anyone who has the means or knowledge to create fabric for chairs. While I am not sure about the overall look of this one, the idea is amazing.
The black and white would be good for certain, more modern and clean designs. So if you are thinking of going minimalist, this is an idea for a splash of something different while maintaining the general tone.
Typographic Stickers
Via opentype
When put in the matching room, these may look absolutely stunning. Gotta love the vintage look!
Typography Wall Art
Via amyhaywood.com
As you can see from the source link, you can play with phrases and looks but this wall art is perfect for minimal living rooms (when it creates certain accent)
Typography Wallpaper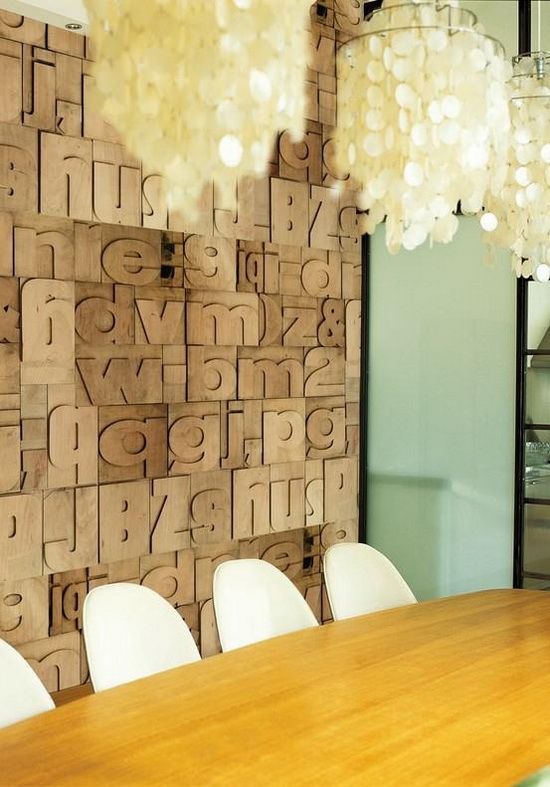 Via Pinterest
Usually when you see typography on a wall, it is as some kind of hanging frame. But this is something entirely different…actual wallpaper made out of the letters! The core concept here is cool, and would be easy to do thanks to the many printing companies out there that make custom wallpapers. Letters are cool, but actual works might be even better. Or the standard ABC in bright colors for a nursery or child's room.
Typography-Based Wall Clock
A very playful example of typography. The letters are dancing thanks to the varied font size! If you look for a second, the font size becomes to make sense but the bright color palette still creates the dancing affect.
Via Etsy
Typography Wall Decor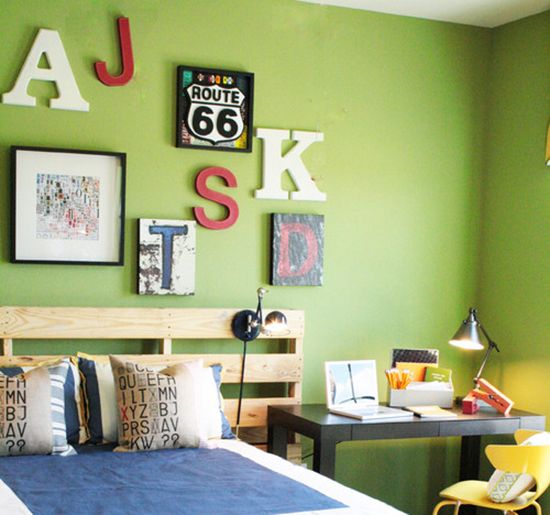 These letters are collected from different sources (example: Homegoods and T.G.I. Friday's sign) and put together to create a typographical wall. What catches an eye is the difference in style of each picked letter!
Via Charm Home
Do you know of any cool designs for people who love typography? Maybe you have implemented such designs in your own home? Let us know in the comments.
About the author
Jessy Troy is the social media blogger, design hobbyist and a stay-at-home mom. You can see me tweet at @JessyTroy